NET MARK IQ
Premium Wax/Resin Ribbon
For use on Near Edge Printers
---
Performance Highlights

Superior print quality, provides rich blue/black images, a requirement for scannable bar
codes and solid fill graphics printing.
Outstanding performance at high print speeds up to 24 inces per second.
Reliably prints on both rough and smooth stocks - including vellum, uncoated tags, coated paper, and synthetic papers like Kimdura and Polyart.
Creates rotated bar codes that scan at speeds up to 10 ips.
---
Feature
Benefit
Darker Blue/Black ink

Creates beautiful solid fill graphics and highly readable text


Increases quality image of item being identified with label or direct print, especially important when being used for branding or in consumer goods.

Improved print quality

No show through or voiding
Improved line integity and reduced bar growth

Increases scans rates which increases productivity and reduces user fustration.

Prints at fast speeds

24 ips in flexible packaging applications
12 ips for labeling applications

increases productivity as line speeds can be increased.

Prints on wide variety of materials, from very rough to very smooth

Uncoated tags for retail
Vellum for low cost labeling
Polypropylene films for flexible packaging
Tyvek for medical packaging and outdoor tags
Coated paper for standard labeling
Synthetic paper for harsher environment labeling

Reduces inventory as one product works for all applications.
---
Technical Specifications
---
Film Thickness: 4.5 Microns
Total Ribbon Thickness: 7.0 Microns
Transmission Density: .80 MacBeth Scale
Ink Melting Point: 70° C, 158° F
---
Star Diagram:
This diagram is representative of NET Mark IQ used in premium applications when printing on coated paper tag and label stocks. Performance ratings are based on a comparison of ribbons within the premium wax/resin category. Scale 1 to 5, 5 being the best.
---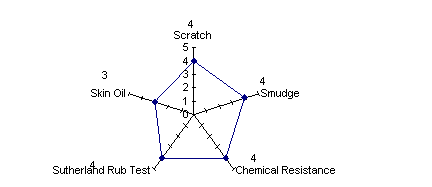 ---
Storage Conditions
---
To ensure optimal performance, please adhere to the following environmental conditions for use, shipping and storage.
For optimal print results, thermal transfer printing should occur in the temperature range of 5° C (41° F) to 35° C (95° F) at 45% to 85% relative humidity.
Recommended shipping conditions for up to one month duration are -5° C (23° F) to 45° C (113° F) at 20% to 85% relative humidity.
To ensure the ribbon ¡s performance, our suggested storage conditions for up to one year duration are -5° C (23° F) to 40° C (104° F) at 20% to 85% relative humidity.
Please Note: Exposing Thermal Transfer Ribbons to direct sunlight or moisture will cause damage to the ribbons.
American Printing Converters' goal is to achieve total customer satisfaction, and we offer a 100% guarantee on all our bar code thermal transfer ribbon products.